As we inch closer to President Donald Trump's last day in office, social media users are once again drawing comparisons between the twice-impeached commander-in-chief and an unlikeable protagonist from a pair of 19th century children's novels: 1889's "Travels and Adventures of Little Baron Trump and His Wonderful Dog Bulger" and 1893's "Baron Trump's Marvellous Underground Journey."
The mannerisms displayed by author Ingersoll Lockwood's antihero, Wilhelm Heinrich Sebastian Von Troomp — who ironically goes by Baron Trump, the same name as President Trump's youngest son — are eerily similar to what we've witnessed from our head of state over the last four years.
"Baron Trump's Marvellous Underground Journey" conspiracy explained.
The events in Lockwood's second novel, which was published 123 years before President Trump took office, could almost be perceived as a guidebook of sorts, outlining what Americans can expect to see from their highest elected official more than a century later.
Throughout "Baron Trump's Marvellous Underground Journey," the main character repeatedly insults people around him, including natives of the underground civilizations he visits, gets into scrapes with women, and constantly talks about how smart he is — his head is even depicted as twice the normal size to accommodate his unnaturally large brain.
Article continues below advertisement
In one instance, Baron Trump brags about his brilliance in a meeting with the Russian government, and in a different section, he successfully sues his tutors, claiming they owe him money for what he taught them.
But wait, there's more. After his travels, Baron Trump returns home to his grand residence, which he's dubbed "Castle Trump." If only the moniker was affixed in giant gold letters on the front of the mansion.
Article continues below advertisement
As is true with President Trump in 2021, critics had plenty of negative things to say about the predicaments that Lockwood's Trump gets himself into. One book reviewer put it like this: "The author labors through three hundred pages of fantastic and grotesque narrative, now and then striking a spark of wit; but the sparks emit little light and no warmth."
A third Ingersoll Lockwood book, "The Last President," seemingly predicted the attempted coup.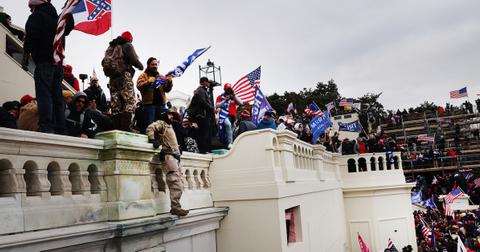 Following the breach of the U.S. Capitol on Jan. 6 by a mob of Trump supporters, social media users turned their attentions to another novel by Lockwood, this one titled "The Last President." The story begins with New York City in a "state of uproar" after a populist candidate wins the 1896 presidential election.
Article continues below advertisement
"Mobs of vast size are organizing under the lead of anarchists and socialists," Lockwood writes of the chaos. "The Fifth Avenue Hotel will be the first to feel the fury of the mob." President Trump's own Manhattan hotel has been the site of many protests throughout his term.
In "The Last President," citizens riot over what they believed to be a corrupt election. The collapse of the republic suddenly becomes a very real threat. Sadly, this plotline hits a little too close to home.
Here's hoping that after Jan. 20, Lockwood's novels once again fade into obscurity — and that No. 45 follows suit.